A Word of Thank You
The men and women of the RCMP in BC take great pride in providing professional service to the communities they serve. It is reassuring for them to hear that they have made a difference in someone's life. If you have had a good experience with one of our RCMP members, units or detachments, we encourage you to email us about it in the official language of your choice at
bcrcmp@rcmp-grc.gc.ca
.
Richmond, 2021-12-15
Please call me Peter. Constable Woojin, I wanted to thank you for your fast attendance on the scene and that your forensic team (Cst. Joseph Liu) was already on site today. I have always been a fan of the Richmond detach and again you've earned my thanks.
The Canada Post carrier was able to re-lock the box but it is so damaged that we will still proceed with a stop mail order and get it repaired. Your forensic team member, whose name I didn't get was also very kind and apologized that he didn't find anything – which you and I discussed, so I explained we had little hope.
Regardless, that you all made the effort is greatly appreciated by all of us in the building. Please pass on my thanks again to everyone.
If you need any information at any time – please don't hesitate to call and if you're ever in the area and need a coffee don't hesitate to call. It's on me. Peter.
---
Pemberton, 2021-11-30
I want to commend two Constables in the Pemberton detachment. (Const.Courtney and Const. Sullivan)
On November 25th my son was trying to leave Abbotsford through Pemberton to return to Kelowna. The road was closed and he stayed in a hotel in Pemberton.
On Friday, November 26th, our son was having a medical emergency in the hotel. Constable Courtney came to the hotel and called for medical assistance. When my son was taken to the hospital Constable Courtney took responsibility for the care of my son's dog. His support of my son and his communication with me was exemplary.
On Saturday November 27th Constable Sullivan assumed responsibility for the dog and took her to the WAG shelter. His help and communication with me were also exemplary.
We deeply appreciate the support these two men have provided to our son and to us.
Glenn and Sandi Allison
---
Ridge Meadows, 2021-11-03
I just want to give thanks and say, I have a lot more respect for the RCMP now.
Solely based on the way Cst. E. Lemire interacted with me and my dad (Last night/ early this morning) while I was making a statement.
Usually my PTSD/anxiety would have been triggered and very overwhelming. But he didn't make me feel unsafe or uncomfortable or scared. He was patient when I needed a minute to walk away. I actually feel safer now. He is truly a good man, and I'm happy knowing he is one of the 'good ones' keeping us safe.
I'd give him 5/5 stars and can say it's the best experience I've ever had with RCMP. (I've had a recent bad interaction with another Ridge Meadows RCMP officer so I didn't have much faith in you guys).
But my faith is now restored so thank you! Mr. Lemire!!
Anonymous

---
Sidney, 2021-11-04
This is a big rave to the Sidney RCMP officer who was out in front of Sidney Elementary this morning (November 3, 2021) at 8:40 a.m. monitoring traffic in the pouring rain and damp chilly West Coast weather. After dropping off my children, I walked past him in order to get into my vehicle and I neglected to say what I was thinking, which was: thank you for keeping the kids in our community safe during school drop-off/pick-up – your dedication (rain or shine) is appreciated and does not go unnoticed.
A grateful parent,
Lyndsay Wallace
---
McBride, 2021-11-02
Hello, I just wanted to tell everyone, especially to the supervisors of McBride, BC detachments supervisors, how officer Colin Bissell saved my life.
I am a long distance cyclist who is on a world tour at the moment. As I came down south from Alaska and cycling east bound on Highway 16 between Prince George and McBride, BC, there was vicious weather. Rain and extremely high winds. There were no where to hide on that road as I was getting closer to McBride. You couldn't cycle anymore as I was pedaling against the wind. And it was very hard to walk even. This wind was very strong. I was out in the open for 6 hours in the rain and against this extreme wind. Despite I had all waterproof clothing, I began getting wet. And the temperature was minus 3. I began shaking from cold. I knew I was about to get hypothermia. Cell phone coverage was down most of the way, but I tried one more time and I called 911.
Canadian RCMP police dispatcher was very helpful. She told me to stay at my location on the road. And little later officer Colin Bissell arrived. He was so sincere, so helpful. Right-a-way he took my bicycle and panniers and loaded them into back of the unit truck. He turned the heat to maximum in his police unit. He knew I was shaken. He then took me to a hotel in McBride, BC. I have never met an officer who was so helpful. I will never forget. I really think if the phone hadn't worked that night. I probably would have been dead from hypothermia. He saved my life. Colin Bissell is a great guy.
Fatih Aksoy
---
Upper Fraser Valley, 2021-10-31
I would like to commend Cst. Fuller of the Upper Fraser Valley division. Of the few times I've been pulled over I never have dealt with a more professional, personable and polite police officer, an absolute class act. It is clear that Cst. Fuller is in the right career and enjoys his work. I drove away with a ticket (that I deserved) however I have not always been treated so decently as I was by this constable which is why I'm writing this commendation. I would hope that this reaches Cst. Fuller and that he continues on doing the great work he is doing and keeping drivers accountable while maintaining a respectful attitude and treating people fairly.
A. Pozemko
---
Golden, 2021-10-06
I want to thank your officers for their quick and friendly response. I reported my son missing. I am a 74 year old mom living in Ontario trying desperately to find my son. I spoke with both Constable Fraser and Corporal Sovio of the Golden B C detachment. They located a Calgary Police Officer who had given my son directions to a shelter. I had a brief conversation with him hopefully he will get the help he needs (depression) I have never needed this help before and was very happy with these officers. Please thank them for me.
Sharon Stubbington
---
Nanaimo, 2021-10-04
We would like to extend a heartfelt thank you to Sgt. Rob Graves and the Nanaimo RCMP for their support at our paving site last night.
The Hub City Paving crew returned to the Island Highway for the first time since a terrible traffic incident took the life of one of our crew members and injured a Traffic Control colleague last week.
An RCMP officer and cruiser were present within the worksite and provided support from the point of traffic calming as well as a sense of security for the crews.
Your consideration was very much appreciated.
Thank you again from all of us at Hub City Paving
N.G.
---
Vernon, 2021-09-12
I would like to reach out and say thank you to your amazing staff who responded this afternoon at VUPC. We are thankful for the ability to work with the officers effectively, and to be able have a smooth transition for the client. The officers' trauma informed care approach was a huge part in the success with this client and our team today greatly appreciated it.
Our sincere thanks,
(A Registered Nurse from Vernon Urgent and Primary Care)
---
Surrey, 2021-09-20
To, The Team of RCMP, BC.
Through this email, I would like to share my note of Thanks & Appreciation to Cst. Mousavi. The incident that happened yesterday was daunting and I am still heeling from the physical injury and dealing with the emotional distress and trauma. This may take some time as well as support to get back to Normal.
This is the Third time, I have contacted or reported something to the Canadian Police Force since May 2019. Out of the all the Three incidents happened to me in past, I have never experienced such consideration and supportiveness, like what was provided to me by Cst. Mousavi yesterday, September 3, 2021. In the past Incidents, wherein I Crucially required Police's help, I have ALWAYS experienced extreme disappointment. I have experienced that some of the Officers have tendency/inclination towards certain standards/protocols, even if they significantly undermines the Victim's Interest/Complaint. However, yesterday Ms. Mousavi was Considerate enough to understand, what I (Victim) might be going through from that incident, and provide me the Relief or the Resolution that I most required at that point-of-time. It was good 3 hours spent in resolving the incident – both tracking the suspect and recovering my phone. Throughout those 3 hours, she has been supportive by ensuring that the interest of victim is not undermined because of any such protocols/standards.
She was also supportive to Proactively guide me through the right non-emergency services that she could realise are of necessity to me in that situation.
The only concern that would remain from this case is that the Bad Elements able to escape from the appropriate consequences of what they did Intentionally. This Robbery has been daunting and emotionally disturbing for me, it will take some time for me to re-gain the confidence of walking/cycling freely and with confidence on the streets of Newton area. I was BOTH Physically and Emotionally injured. Nevertheless, there will be always be a positive thought in my mind that there are Officer like Ms. Mousavi in the Newton area. The belief that the Officers like Ms. Mousavi shall be handling the cases supportively and considerately, whenever the need be, will certainly help in re-gaining the confidence faster!
Our society needs more Officers, People/Humans like Ms. Mousavi.
@ Cst. Mousavi: Thank you! I might not have ever had re-gained the confidence in the 'Police' Forces in Canada, had someone like you was not handling my case yesterday. Keep up the good work, wherever you may go in future. Thank you, once again for being You!
Sincerely, CJ.S.
---
Quesnel 2021-09-14
I would like to thank Cst. McGreger and commend him for his help and professionalism when I had an accident with my car and trailer, just south of Hixon on Saturday September 11th. It was a stressful event and he, plus the other first responders managed the whole situation so well.
Many, many thanks.
Joan Tod
---
Naramata 2021-09-07
I, along with two passengers were involved in a car accident on August 23, 2021 in Penticton, BC. The three of us were injured and taken to hospital by ambulance. As you can imagine, it was a stressful, chaotic time but we were all most thankful for the officer who was at the scene, Cpl. Brent Huff of the Penticton Detachment. Brent was calm, and provided us with clear, helpful and appropriate information. He was efficient yet took the time to be considerate and caring. Many thanks from us.
Maureen
---
Surrey 2021-08-30
To Whom It May Concern,
I am writing with a huge thank you to the officers assisting with finding one of our cyclists yesterday in a Cancer ride throughout Surrey.
I am a longtime volunteer of charity events helping with the wellbeing of cyclists for mechanical support. On this day, I took the sweep of the ride from Delta to 192nd and Hwy 10 back to Delta..
Diane Lynch was part of a group of 30 plus cyclists who raised over $100,000 this past year for the BC Cancer Agency and set out to cycle 100 km. During this ride, Diane was being leapfrogged by vehicle to guide her back onto the course after becoming lost. She was not interested in taking a break in a vehicle to get back on course. We recharged her phone in the vehicle and somehow became separated from her in between roads. After 15 minutes of trying to locate her in all directions, we nervously scoured the ditches on 40th avenue heading east to 168th where we last clearly saw her. She was within 100 meters of us.
Approximately 11:45 am I called the non-emergency line of the Surrey RCMP and was assured they would help us. Within a few moments, Constable Marshall contacted me to follow up on information regarding Diane. Not long after, I was contacted by Constable Sutherland to provide us with the finding and whereabouts of Diane.
She had somehow travelled off course again. Without knowing her abilities as we just met earlier that day, the fear of her losing control into a ditch, seemed all too much a possibility.
This email highlights the many positives that the RCMP are involved in numerous times a day. Yet, we only seem to hear of a negative story when reported.
Thank you for the attentive reaction when help was needed and requested. Thank you for the professionalism of the officers.
Thank you to the phone attendant and Constables Marshall and Sutherland for looking after us !
The file number for this was 21-131309 Would be great for recognition to be given to those involved, as their contributions meant so much.
Take care
Rob Wright
---
Outer Gulf Islands 2021-07-28
I just wanted to say thank you for the incredible service I received from the Outer Gulf Islands detachment on July 22. I live near Ottawa and called to ask if it was possible to have someone check in on my 87-year-old mother living on Galiano Island. The constables that went out to check on her were unbelievably kind and understanding. They went above and beyond in making sure everything was ok with my mother. I have always had a good impression of the RCMP but they were exceptionally helpful. Just wanted to say thank you.
Dominic
---
Salmon Arm 2021-07-28
Top of the hat to the Salmon Arm RCMP Detachment who took the time to respond to our concerns.
My husband and I got very concerned when we tried calling my brother in Salmon Arm July 13th and 14th.
I called my brother in Kelowna and he didn't hear from him either. I called the RCMP Detachment in Salmon Arm who dispatched a constable to my brother's place as a wellness check. As it turns out, my brother had shut his answering machine off which triggered the busy signal on his phone. As my husband and I live in Campbell River, it is not easy to make the trip any time we feel like it.
We can't thank the Salmon Arm RCMP Detachment and the dispatch clerk enough for going out of
their way to make sure my brother was OK.
Cheers,
K.M. & M.M.
---
Langford 2021-07-23
Hello,
Two constables came last night (July 2, 2021) to deal with our grandson who was threatening to harm himself. The amount of calm and caring demonstrated by the 2 officers - Cst. Owen and his partner [Cpl. Koutougos], left us grateful and much impressed.
We'd like to offer many thanks for their great service,
Gail & Ron, Colwood
---
Langley 2021-07-14
I've lived in Langley since 2009. It's a small all owners-building on a quiet street. I've always really liked my neighbourhood and living in Langley.

In recent years, the person in the suite next to me has caused countless troubles, many of which have involved the RCMP, EMS, Fire and City Bylaws.

These events have escalated and escalated unit recently. In a series of events, I was put in touch with the Langley Strike Force and Drugs Section teams.

After a few long conversations, sharing some video footage, existing police files and a statement, these teams were able to get a warrant and search the unit.

[A members on the Langley Strike Force] has also been helping make any suggestions on what we can do to further aid us in this process.

After reading the news today, and seeing the article that shed some light on what was actually removed from the property, I was almost without words.

All the uniformed officers that have come when we've called, deserve a pat on the back but the Strike Force and Drug Section teams really pulled together to do some big things in a very short timeframe.

We still have a journey ahead of us with this unit but the recent efforts have made a huge impact on our success with our pending lawsuits and also our safety.

I feel like I may never have been connected with [the Langley Strike Force] without the assistance of [the Surrey Robbery Unit] and while he isn't a member of the Langley Detachment, he and his team have been amazing to work with and I'm so, so thankful for everything they've done.

I honestly feared for my safety over the last several months and even with this heat, I can honestly say I've slept better the last few nights than I have in a very long time.

Please don't hesitate to reach out if you want I'm happy to have a chat with anyone who needs to hear that we, as a building community, say Thank you!!
T.H.
---
Chilliwack 2021-07-11
Hello! I was two cars behind an RCMP officer in car UF2011 around 12:45pm today driving north on Vedder Road in Chilliwack. There is an area where Canada geese like to cross the busy road and often they just start walking across the street - the RCMP officer had slowed down and stopped and while they were crossing he/she had his car lights flashing as an alert for other drivers to be aware of the geese crossing. I just think this was such a nice thing to do, as too many of these geese get hit. I think that when cars are stopped on the road with no apparent reason to the cars behind them, to see a police light flashing is a great way to alert people to be cautious. He/she didn't have to do this but I just really appreciated it. Made my day! Keep up the good work protecting our community (all creatures great and small!)
Michelle Ambrose
---
Sea to Sky 2021-07-08
Our team runs a very busy recreation area in the Sea To Sky Corridor. Sometimes things in our park can get so busy and visitors can become overly passionate or difficult for us to de-escalate from a concern. When that happens we usually need an extra hand or two to ensure public safety and conservation rules are held up by all our visitors. So far in the 2021 season we've called on the Squamish RCMP a couple times to help with some heated issues within our park and on all occasions we've seen friendly and SUPER knowledgeable officers show up very fast to support us! We can't thank our local officers enough for always helping keep our area a fun and friendly place for locals and tourists alike to share!
Sea to Sky Parks
---
Canada-USA Border 2021-06-29
An appreciative shoutout to the RCMP on the Canada US border along avenue zero this Sunday. They were efficient , professional and careful with everyone re-entering Canada. Every person was checked, every bag got a look and everyone was treated the same way. Monitoring avenue zero on an unusually hot day cannot have been what they signed up for but they should be proud of themselves. Many thanks.
Donna
---
Coquitlam 2021-05-27
Hello, my dog was sick all morning so I had to take her outside to poo at 330am and at 445 am this morning. I forgot my keys the second time and live in the condo across the street from the police station on Burlington Drive in Coquitlam. The fobs for the building only work for your specific floor. Nobody on the intercom is identified by floor otherwise I could have tried buzzing ppl. But probably not a good idea around 5 am.
It was poring rain, my poor tiny dog in my arms shivering. I'm in my pajama shorts and sandals. I start crying, unsure what to do as my live in bf is away. I have no phone on me either. I see a policeman just starting his shift pulling out of the station across the street. After only 10 mins he was able to help me and escort me back into my building and into my apartment.
He was SO KIND and compassionate. I am so grateful to him and all the police who protect me daily. People don't understand how your lives are in danger every day, but I do. And I appreciate everything you do for us. I can't thank that policeman enough for helping me right away at 5 am in the rain, crying, probably looking like a crazy lady lol.

Thank you from the bottom of my heart. I hope he gets this message, although I do not know his name.

Warm regards,

Stephanie

---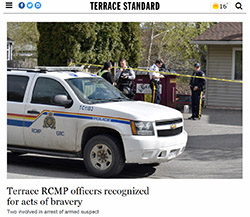 Terrace 2021-04-16
This is one of the reasons we love our local Terrace RCMP. I would gladly offer my life for my family; while RCMP sacrifice theirs for strangers. Well done.
Terrace Standard article: Terrace RCMP officers recognized for acts of bravery

Maggie Jo
---
North Vancouver 2021-03-29
Hello -- I live in Victoria, but listened to the interview which Supt. Bayani gave to the Vancouver CBC radio station this afternoon.
I was so impressed and gratified to hear his words -- they were reassuring and empathetic -- but at the same time, they were factual and didn't gloss over any of the difficult areas.
I was also very glad for the people of North Vancouver at the approach that your whole detachment has taken, in being present in-person and accessible to ordinary citizens. This pro-active approach will deepen your contact and provide opportunities for direct engagement with the community in this very difficult time.
I was very proud of Supt Bayani and the detachment's approach -- professional and human at the same time.
Thank you very much,
Irwin Henderson
Victoria, BC
---
Kelowna, 2021-03-16
Sending a sincere and heartfelt Thank You to Cst. Smith who went over and above his duty and surpassed expectations.

We are grateful for the care, kindness and additional time Constable Smith took in an effort to assure the family and put everyone at ease that everything possible that could have been done, had been done in a tough incident Officers were called to help out with.

We are so appreciative and proud to know that genuinely caring and compassionate RCMP Officers like Constable Smith are hard at work to serve and protect the community.

We appreciate you and your team Constable Smith.

With Warm Regards,
M. Makortoff
---
Dawson Creek, 2021-02-03
Dear Police
I would like to thank you for your job for protecting this city and saving the lives of its citizens.
---
Westshore, 2021-01-22
Westshore RCMP,
I was nervous about staying with you guys during my trip to the island, but I wanted to let you know that I appreciated how helpful and kind everyone was.
Especially the 4 jailors who do a tough job and are often under appreciated by the people in their care. You make a difference.
Thank you for your care and kindness while I was in your custody. :)
4 1/2 stars ;)
---
100 Mile House, 2021-01-20
Dear 100 Mile House RCMP Officers, and civilian employees,
In the past months our world has thanked medical professionals and front line workers for their effort to help us navigate this pandemic, and rightfully so they have been an incredible support and helped save countless lives. Yet we feel you have been under appreciated, and under thanked. We know that you have been tirelessly protecting us. That many of you have risked being infected with COVID. We recognize that during this pandemic you didn't stop risking your lives in all of the ways you normally do to protect us, but you also were facing a virus we didn't know a lot about.
You protected our community, especially the vulnerable in the same way you always have. Your entire detachment has cared for the 100 Mile House area while being honest to the character and the behaviour that makes the RCMP great. You have had incredible integrity as you uphold the laws, and been incredibly professional even as hurtful words have been spoken to or about you. You have had compassion and respect for all members of the community especially the vulnerable.
It's clear to us that you deserve a lot more than a letter saying thank you. However we still feel it is important for us to write this letter and say thank you. Thank you for being consistent regardless of circumstances. Thank you for protecting those who can't protect themselves. For caring even when you're tired. Thank you for not changing your standards this past year. Thank you for being who you are. From the bottom of our hearts we want you to know that we support you. That we stand with you, and that we are inspired by your actions.
Kind Regards,
Carter Froese on behalf of CCLF Youth Group
With you and for you.
---
Ashcroft, 2021-01-18
Hi,
I'm hoping you have the ability to forward this email to (a ccnstable), I believe he is in the Ashcroft BC detatchment. (720 Elm St. Ashcroft BC) I cannot make out the signature, possible R.Aly, or R.Ash...
I am a class 1 and 6 license holder, certified commercial vehicle inspector, and have managed to keep my 7 year driver abstract clear despite the high mileage that I make in a year.
I just paid the minor speeding ticket I received 2 days ago from this officer. I am well aware of ever increasing challenges in Policing, Public/Media relations, and the unique challenges that Covid presents in 2021.
I would like to state, quite simply. The officers conduct/professionalism and courtesy is impeccable. Receiving a ticket was as pleasant as it can possibly be. I feel when it comes to the police, people behave similarly to reviewers on Amazon. As in more likely to take the effort to write a bad review than a good one when everything is working fine.
So for a change here is praise, and I hope that the officer finds a path to a training role, as his methods are smooth and seamless and a lot can be learned from his conduct.
Thank you, safe policing and kind regards from our family in Prince George BC.
I. P.
---
Southeast District 2021-01-05
Sir or Madam
On December 29, 2020, my husband and I had our first car accident after over 60 year of driving (each)! Luckily a police officer, assigned to crime detail, was passing and quickly turned around and came to our aid! We are seniors, and were shaken but not hurt, and not too familiar with accident procedure. This officer was kind, patient and very helpful, and took a lot more care than was his job! He even drove us to the dealership to wait for damage results. Our adult "kids" laughed about Dad sitting in the "cage" of a patrol car. This officer did not leave us until he was sure we were O.K. We want to commend him for his kindness. Kudos to Cst. Mark Macaulay. He is our hero!!!!
John and Eileen
---
Sheridan Lake 2021-01-03
Dear Sir/Madam

Yesterday (January 2nd, 2021 at 5:30 pm.) I was traveling westbound on Highway 24 approaching Lone Butte. Due to uncertain road conditions (ice and snow) and dirty headlights that I have since cleaned, I was traveling about 10 kmh under the speed limit. I was pulled over for a traffic check by an RCMP Officer who wondered if there was anything wrong. I spoke with him briefly and continued on my way.
I was very impressed that the manner of the stop, the professionalism and the concern expressed by the officer.
A routine stop for sure, but one that makes the community proud of the policing service offered by the RCMP. Please place this letter of commendation on the officer's file.
Best Regards,
Wayne Cope
---
Nelson 2020-11-25
Hello Constable Nicki-Jo,
I hope I have your name right as I just heard it the once when I came to collect our vehicle that you so kindly stayed by two Fridays ago after calling an ambulance for my husband.
We, as a family wish to extend our deepest appreciation and gratitude for the manner in which you handled the situation with my husband, Keith. You were right in calling the ambulance, as once he was in ER he went into a Grand Mal. We are becoming more aware that this can be the result of a brain injury, such as the stroke he mentioned to you he had almost 2 years ago.
You most certainly saved lives (both my husband's and perhaps others) with your actions that day.
He has been home for a couple of days and we are collecting ourselves. As we do so, we want you to know how on the mark you were and to thank you from the bottom of our hearts.
With sincere appreciation
Margery and Keith Corrigan and family
---
Sidney 2020-11-22
Dear RCMP Representative,
Thank you for this opportunity to express my gratitude to the officer that pulled me over on Lochside Drive, in early October.
He had lovely red and blue twinkling lights on his vehicle along with a trumpet. It was quite a welcome to my move here from Winnipeg. I am teasing. But, he did pull me over, for cutting him off, which I wasn't aware I did. Oops! Not a good impression to make as a newcomer. I had been here for just over a week trying to get the lay of the land and figure out those round-about thingys and thought I was doing well until that happened.
Anyway, he was so kind and so nice to me. He could have been really annoyed and tried to make me feel stupid or inadequate but instead,he explained what I had just done asked me to be very careful. His parting words were, welcome to the island. That put a huge smile on my face, especially, because at the time, I didn't know a soul here and it was thoughtful of him to say that.
I believe he is with the Sidney detachment but I'm not sure. I was stopped near Cy Hampson, driving Southbound from Sidney.
Best wishes to the officer.
Kind regards,
S. Jones
---
Port Coquitlam 2020-10-28
Hello,
I am contacting you to express my gratitude for the service I was provided by one of your members.
The incident occurred on the date October 25th, 2020 at approx 2300 hrs on the Mary Hill Bypass (east bound) in the city of Port Coquitlam B.C.
Our vehicle unfortunately lost a wheel while driving on the highway. The officer who arrived was very professional and kind, he made sure we were safe until a towing service arrived, and in addition he drove us to our home which was nearby.
If you are able to identify the officer please give him our thanks and I hope you will provide him with recognition for his professionalism and a job well done.
Thank you,
Anthony Furesz
---
Grand Forks 2020-10-20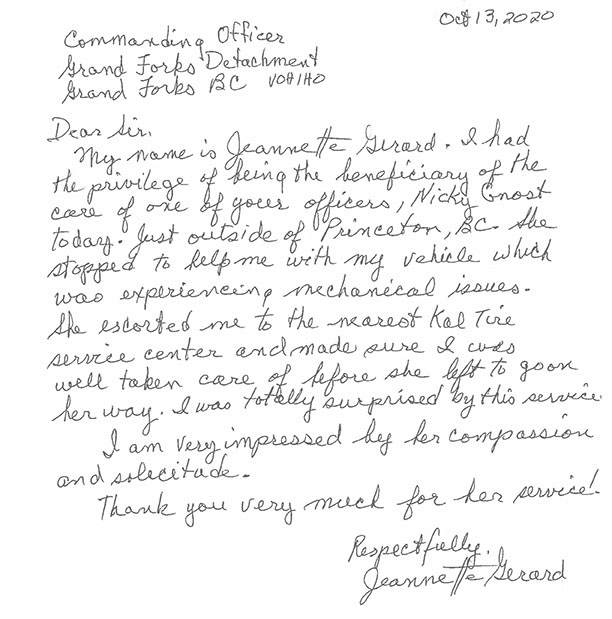 Commanding Officer
Grand Forks Detachment
Grand Forks BC V0H 1H0

Dear Sir,
My name is Jeannette Gerard. I had the privilege of being the beneficiary of the care of one of your officers, Nicky Gnost today. Just outside of Princeton, BC, she stopped to help me with my vehicle which was experiencing mechanical issues. She escorted me to the nearest Kal Tire service center and made sure I was well taken care of before she left to go on her way. I was totally surprised by this service.
I am very impressed by her compassion and solicitude.
Thank you very much for her service!
Respectfully,
Jeannette Gerard
---
Lytton 2020-10-17
On September 12th, I was staying in Shaw Springs with friends. An incident occurred there where apparently a young woman was physically removed from a transport truck and left with her belongings in the parking lot at Shaw Springs. She felt she had broken her arm and, as a retired nurse, I attempted to help her sling her arm and briefly checked on her condition. My friend and I called 911 and thought an ambulance was needed to transport the young woman to hospital. Before the ambulance could arrive, the young woman with her male friend decided to get in a car with a gentleman who offered them a ride to the hospital in Lytton. We cancelled the ambulance but an RCMP Constable came to Shaw Springs to determine what had taken place.
I would like to commend the Constable who talked to us and took our statements. In this time of heavy criticism of the police, I feel it important to give praise and thanks to the police for their difficult jobs. The Constable who talked to us was very calm and professional in his approach. In taking our statements, I felt he asked us pertinent questions which helped in our recollection of the individuals involved. He was very polite and approachable, making us feel comfortable discussing the situation with him. It is people like this Constable who are good representatives for the police.
I hope you will convey our thanks to Constable N. Blair and commend him for his professional approach to members of the public.
Sincerely,
Elizabeth P.
---
Langley 2020-09-14
Thank you very much to the Officer that helped a juvenile raccoon at 5451 204 st in Langley this morning. (Sorry I didn't get his name.)
He did an excellent job of corralling and containing a small raccoon that had been hit by a car and then helped me transfer it to a carrier so it could be taken to Critter Care Wildlife Society's clinic on 216th.
He was patient and kind with the people that gathered around while he waited for the CCWS rescue vehicle to arrive to collect the injured animal and was a pleasure to work with.
Regards,
Wendy
---
Tofino 2020-08-12
Hi, My name is Teresa Bryla and my husband, Charlie, and I lost our beautiful son, Chase. Our son lived in Victoria but went to Tofino and took his life on August 14, 2016. It has taken my husband and I four years to be able to go to Tofino and I am writing to you because your member, Constable Chad Kisby, of Tofino, who was on duty that day when Chase took his life, was also on duty when we arrived in Tofino last week for what was the hardest journey any parent could take, we didn't know if we would be able to but we wanted to try. We had hoped that Cst. Kisby would provide us with a map so we could try and find the location where our son took his life.
There are truly no words my husband and I can use to describe the utmost compassion, caring and professionalism shown to us by this wonderful police officer, who not only took us to the trail but walked with us to the location and left us to mourn the loss of our beautiful son. When we emerged from the trail sometime later, Cst. Kisby was there, he wanted to ensure we were able to find our way back and that we were okay. The emotions were overwhelming but seeing Cst. Kisby there, was like seeing an angel, and his kindness and compassion extended to us at such a heartbreaking time for us, we just feel that what he did for us, our family and our friends, is so above and beyond the expected service that I am hoping there is some way that we can repay him. I am writing this e-mail in the hope that although what Cst. Kisby did that day may not be considered an act of heroism, to us it was so profound that we know without him and his guidance, compassion and care, we could not have made the journey we did, we needed to do, but know now we never could have done it on our own. The peace that Cst. Kisby provided to our family is a gift to us that we will be eternally grateful for.
Sharing our story with friends and family of what Cst. Kisby did for us that day has brought out the very best in people, and his act of going above and beyond to help us has truly left everyone with the highest respect and impression of what a difference the RCMP can make. If there is any way that you can help us in some very small way repay Cst. Kisby for what he did for our family, please let me know. I tried to find the e-mail address of the RCMP commissioner because I would like her to know that Cst. Kisby is the best of what we hope our RCMP embody.

Thank you
---
British Columbia 2020-08-05
I'm writing to commend Officer Ostrom, badge # 114884 (Upper Fraser Valley Reg RCMP) on his highly impressive professionalism.
Officer Ostrom rightfully stopped me and ticketed me for going over the speed limit on the BC 1. While doing it, Officer Ostrom gave me a master class in communication. He did not talk at me or talk down to me. Rather, he spoke to me more like a concerned relative or friend. I was rushing to the airport to drop off my girlfriend, hence the rush. In very simple terms he showed me that by speeding, I was sabotaging the very same purpose of my journey because I was endangering it altogether by driving at an unsafe speed. His friendly and calm demeanor was especially remarkable given how incredibly hot it was on that day.
As an African Canadian man, I haven't always had the best experiences with law enforcement. Officer Ostrom taught me that law enforcement is not always 'out to get you'. Much more often than not, they are ensuring your safety. His words will always reverberate with me whenever I get the urge to speed. No more self-sabotage. Thank you for restoring my faith.
Great job Officer Ostrom! The world needs more of you!
Anonymous
---
Surrey 2020-07-15
I'd like to give a shout out to Cst. Lu from Surrey detachment. I was involved in a fender bender the other night and he appeared in minutes out of nowhere without a call from any of us. Thank you for immediately blocking traffic to ensure our safety. Your calm and reassuring approach helped us all get organized and back on our way safely. What might be a routine call for you, made a big difference to us all.
Thx,
V. Law
---
Langley 2020-07-14
Murrayville is a lovely community, and many of us living here are seniors who enjoy our neighborhood and the safety of our homes.
We walk past the Langley RCMP detachment here many times a week with our Sheltie, and see members going onto shift, or coming off of their shifts which we know are 12 hours long.
We thank the RCMP for their dedication to work which is often difficult and even more so during these different times. We appreciate all you do!
Sincerely,
Sharon, Mike and Lily
---
Traffic Services 2020-07-14
Dear RCMP, Our family heard that some people are having challenges being kind to you. We have heard the news and read newspapers. We strongly believe in you! In your work and devotion to the public, we believe you help Canada be better and protect our communities, our interactions with the RCMP have been warm and welcoming.
This time remember: We have your back! We appreciate your work and believe in all of you.
From: Citizens, a family. Jordon, Georgina & Ethan.
We are all Canada. Thank you for your service RCMP!
We are all Canada. Thinking of you! All the great people on the RCMP. June, 2020
This is my handprint it says: Hi! to the police. - Ethan 3 years old.
Police officers I Love you. - Ethan, 3 years old. June 2020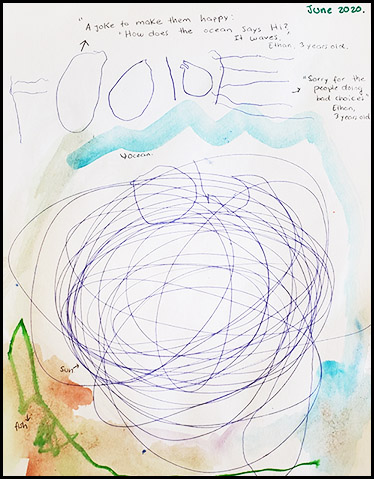 A joke to make them happy: "How does the ocean say Hi? It waves."
"Sorry for the people doing bad choices" - Ethan, 3 years old.

---
Richmond 2020-07-08
It really upsets me to see such a widespread vilification of police forces as we see today. I want to simply thank you for the terrific job you do in my community in Richmond, BC. Our streets and trails are safe thanks to your dedicated work, and when I am asked what makes this city such I great place to live in, I always add: the Mounties have our back!
Cheers to y'all.
Paulo Sgarbi
---
Fort St. John 2020-07-07
I just wanted to reach out and in some way give a big huge thumbs up to Cst. M. Marshall at the Fort. St. John detachment. He truly deserves more than I can do right now being in the medical field and dealing with our current circumstance.
Not only was he very quick with handling my case but he really took the time to listen to me when nobody else would. He explained my options in great detail and made sure I was with him on every step of the way.
Cst. Marshall was very thorough and understanding of my issue and it was dealt with so efficiently. I cannot express how comfortable I feel knowing we have such wonderful and outstanding RCMP officers here in our small town.
with so much gratitude,
CJH

---
Penticton, 2020-07-03
Penticton RCMP,
We want to thank the Penticton RCMP for a truly fabulous birthday celebration for Mom's 100th birthday June 30th. She was thrilled to see and hear the procession of vehicles and personnel. She especially loved the stuffed bear given to her.
Thanks again,
Wendy and Tom Dolynuk
---
Castlegar, 2020-06-25
RCMP,
Thank you for all that you have done, and for all that you are now doing during these ... uncertain times.
We know all you've ever wanted is to make the world a better place, your way of expressing that was to become a police officer. There is an unseen force threatening to put our world into the greatest depression it has ever seen. The third world is suffering like never before and the second class hit harder than ever imagined. We love and respect you brothers and sisters in this human experience.
Remember the world you love, the world you vowed to protect when you made the noble choice of becoming police officers, because that world is being threatened to be taken away from all of us. You play an intricate part in this beautiful experience of life. Your decisions hold so much power, (again thank you for all that you Do) meaning that your rewards will be great when the best person that you are, your highest selves, dictates what it means to you, to be a police officer. We're all in this together and there is more love for you and us all than we realize. Love is all that exists; the rest is just searching for healing. We have your backs because you have ours.
(This letter was left at the side door of Castlegar RCMP)
---
South Okanagan 2020-06-22
Someone once said that, silence is golden. It is also a tragedy when the world seems to fill with cries of systemic racism, police brutality, and Black lives matter. While I am all for a peaceful, law abiding society, my silence might indicate that I support all of the above. I want to apologize for not speaking up and maintaining that illusion. While each is a worthy cause, our local police are not to blame.
I want to speak up with a Huge THANK YOU to our South Okanagan RCMP. While I do not know the everyday ins-and outs of policing, I am certain that these brave men and women, do not start their days by saying, I wonder who I can hurt today? Unlike many professions, taking on an assignment is not an option, it is an order.
Thank you for leaving your families each day when you go to work, knowing you might not come home. Thank you for being there when a son daughter, mom or dad go missing. Thank you for having the courage to knock on a stranger's door and investigate a complaint or tell the occupants that a loved one has died.
Thank you for checking on the elderly person who hasn't been seen for a while. Thank you for responding when our elderly neighbour, now deceased, called 911 to report strangers in her yard with flashlights shining them in her window. Two cars responded with lights and sirens. While you were there, a flash of lightning caused her to say, There they are again. Thank you for making her feel safe and not adding to her embarrassment.
Thank you for responding to the frivolous, and serious complaints all with an attitude of non-judgmental professionalism. Thank you for not quitting with every public complaint you get for just doing your job. Thank you for being willing to investigate crimes that the thought of would nauseate the rest of us. Thank you for not smoking pot even though you could. Thank you for running into harm's way when there are real threats to public safety.
Thank you for your patience with unruly teens, even when they spit in your face (few and far between, but it happens). Thank you for being moms and dads who bring that compassion to your work. Thank you for being willing to pick up the pieces when our society breaks. Thank you for having nightmares so the rest of us can dream. I guess more than ever, thank you for doing an often thank-less job.
THANK YOU FOR CHOOSING TO SERVE AND PROTECT!
Grant Bogyo
Source: Castanet News
---
White Rock 2020-06-18
On Thursday (2020-06-18) evening at 1945hrs my family was celebrating an early Father's Day at the White Rock pier. As we reached the end of the pier we saw two RCMP members approach an obvious special needs male who was seated there. After a short exchange both officers offered him a hand, which he took with a smile, and they then escorted him back to shore. They kept holding his hand for the length of the walk back, which elicited numerous smiles and positive comments from the crowd there that night. Both officers displayed commendable patience and compassion for this man and, especially in these trying times with so much vitriol directed at police, showed the public what is at the heart of police work, a desire to help those in need.
Please pass on a "well done" to the members involved.
Cheers,
Amnon Lichtmann
---
Kelowna 2020-06-15
I have been meaning to send this for a while.
I was involved in a serious single car crash early this year. Thankfully, I was not hurt but I was shaken up and did not know what to do. Your officer 63191, Constable Lamont came to the location.
He was very kind and extremely helpful. I really appreciated his assistance!
Wayne Jones
---
Nanaimo 2020-06-07
On Friday June 5th at approximately 7-7:30pm, my peers and I were walking back from the Black Lives Matter protest in Maffeo Sutton Park when we were approached by one of your constables. Constable Bruxton-Carr asked us in a genuinely interested manner what we thought of the protest and everything that is happening; moreover, he gave us the opportunity to ask multiple questions in return.
I as well as my friends had a vey positive experience being able to interact with a police officer who seemed genuine in his curiosity of our concerns. I would like to commend Constable Bruxton-Carr for his understanding, patience, and time. Although some things were not seen eye-to-eye, it was still very insightful to hear from someone who represents the police force. We were also given the opportunity to provide our personal recommendations and opinions which may or may not have/will be passed along. It is my opinion that more positive interactions like the one on Friday will give the public a better insight into those who are there to protect us, as well allow us to feel that our voices/concerns are being received.
Thank you for your time,
E. Rowe
---
Kelowna 2020-05-18
On February 15th, a bracelet of mine went missing in the security screening area of the Vancouver airport. It was valuable monetarily, but most importantly because it was a gift from my son for my 70th birthday.
I reported the theft to the RCMP and quickly got a call from Corporal Hilary Lu at the Richmond Detachment. Within two days, having followed the investigative path and having been in touch with the person who took the item, he began the long process of trying to retrieve it.
The person in question claimed to have given the bracelet to someone else during his travels and that it ended up in Texas.
In the midst of the COVID 19 crisis, Corporal Lu, with exactly the perfect balance of firmness, encouragement and persuasion convinced that person to arrange for shipment of my bracelet from Texas to the detachment.
Corporal Lu maintained regular contact, both with me and the person in question. He was empathic and persistent, sensitive to the sentimental nature of my loss. I am sure there were larger files for which he was responsible but he was determined to resolve this one.
On May 11th, I opened a package from the Richmond Detachment and inside was the bracelet that had been taken three months earlier. It was the skill and patience of Corporal Lu hat created this wonderful outcome and words could never express how grateful I am.
Mickey Patryluk (Ms)
Kelowna, BC

---
BC 2020-04-29
Dear members and staff of the RCMP,
I want to extend a heartfelt thank you for everything you do for us here in Canada. Lately it seems
as though the RCMP as well as other law enforcement organizations receive negative criticism all too easily, especially following terrible acts of violence and crime by others in our country? I for one sincerely appreciate the sacrifice, bravery and hard work shown by your members and staff when
faced with these unprecedented incidents.
Keep up the amazing job, and thanks.
Best regards,
Chris Alexander
---
Revelstoke 2020-03-11
Good morning Cst. Freeling

I want to thank you again for how well you treated me last Sunday night in Revelstoke and the level of respect you gave me even though I was in a bad place with my actions and was not abiding by the law. In my opinion you could have not done a better job with assessing the situation, stopping the crime and preventing future infractions.
I have been in trouble with drinking and driving before and although it has been a long time I know I won't be in trouble for it again. Thanks to you and your co-worker That night. My apologies I never got her name. Your words of encouragement, understanding and concern were very considerate and heard loud and clear.
I will be back in Revelstoke in April to get my truck, this summer for our annual camping trip and of course next winter to snowmobile. If you see my truck please pull me over so I can thank you again in person. I don't think you will forget what it looks like. You and your detachment are a huge factor in what makes Revelstoke the most amazing city in Canada.

I appreciate your help,

B.K.
---
Surrey 2020-02-21
A school project on Canadian icons meant an invite for Sgt. Martin Guay to his daughter's class. Thank you Ms. Porter!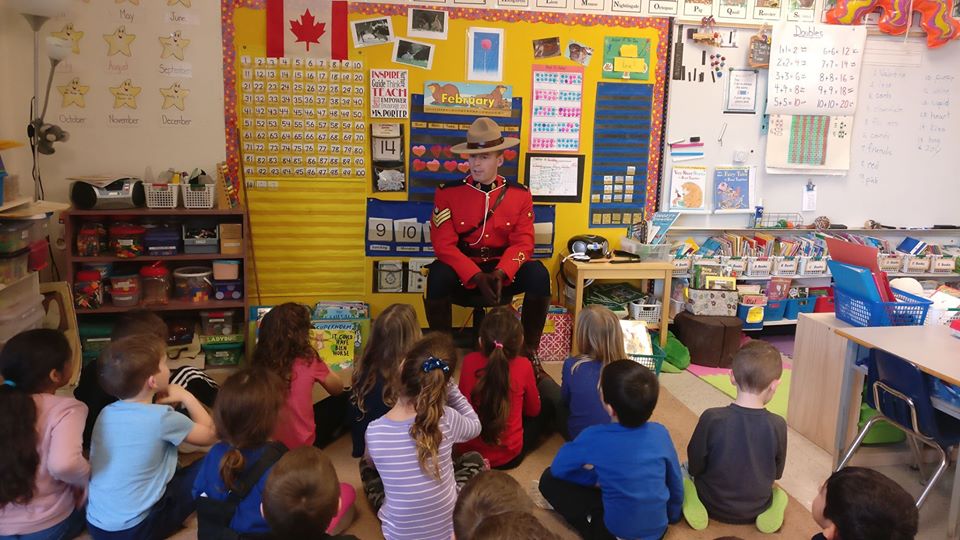 Dear Mr. Guay
Thank you for coming into our class in your RCMP uniform. We loved learning about the RCMP. We also loved the gifts you brought for us.
Love Div. 20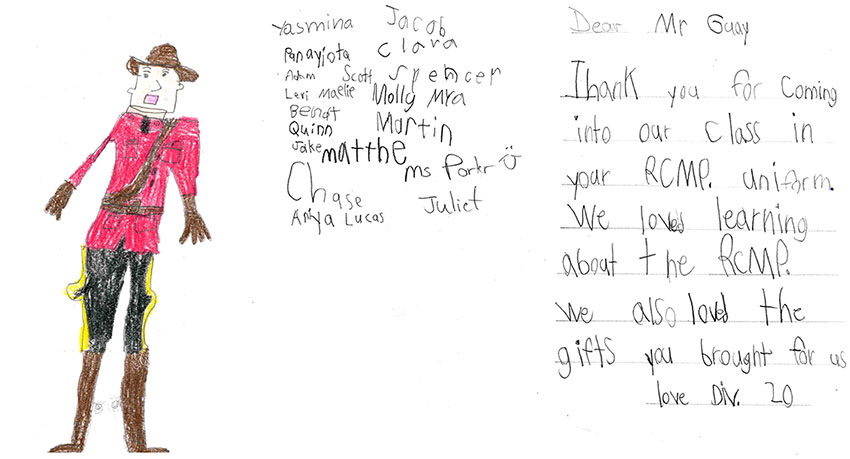 Midway 2020-02-10
I wanted to share this with you as Constable Simon Bentley deserves this story to be shared. I know so often RCMP officers can be intimidating or painted negatively by media. This is a story of a good man sharing his knowledge and touching lives in a positive way...who also happens to be a fantastic RCMP officer in our little community.
Before becoming an RCMP member, Constable Bentley was a black seal chef. Not only could he run a kitchen, he could manage the restaurant too. At one time he and his team made meals for the Rocky Mountaineer train company. He approached me last fall with an idea to host a cooking competition in my Food Studies class I teach Home Ec and PE at Boundary Central Secondary in Midway, BC. Having an experienced chef offer this experience was a no brainer...and so the planning began.
For the month of January, Constable Bentley spent 3 classes per week in my Food Studies 11/12 class teaching, demonstrating and involving my 10 students in the art of pasta making. He brought bags of fresh ingredients including different cheeses, a selection of meats and seafood and vegetables. Immediately they delved into fresh pasta making, followed by fillings, sauces, and flavourings. Under Constable Bentley's tutelage, they learned everything they needed to adjust flavours and prepare themselves for the final project: a pasta competition.
The learning was immense. Constable Bentley guided them on how to pair different herbs and spices with ingredients to enhance their flavours. He encouraged them to sample foods they had previously decided they didn't like. He brought students up to the demonstration table and had them help with the preparation of different recipes. He encouraged food safety and stressed the importance of keeping a clean workspace. He taught them how to believe in themselves and trust they could create something delicious (not from a box). He empowered them.
On the last day of class, each student prepared a dish for our three guest judges to taste. They worked independently of each other to make the fresh pasta by hand, mix sauces and fillings and plate their creation in an appealing way. He approached local businesses for donations and had small kitchen appliances and medals for first, second and third place. The students were hooked from his first visit to the final presentation of the winners.
More than the learning of pasta, was the positive connection he made with each of my students. Constable Bentley was already very involved in our school as the liaison officer. He has talked to the students about bullying and the new laws around marijuana use. He has come to our school if there has been any threat to the students' safety. The students know him. The students respect him. But in his role as chef, my students saw a different side of him and now each of them feels they have another adult in our community who cares about them and who they can approach to talk to about anything. During our Grads vs Dads hockey game he was invited to stand in as a dad. That alone speaks volumes.
The pasta competition ended over two weeks ago and every time his vehicle pulls up someone in my class notices and asks if he's coming back to teach us something different. Today he parked outside my classroom window and a student opened our tiny window to say hello. He's made an impact. It will be a sad day when Constable Bentley finishes his posting with us, but until that day, we will cherish who he is and what he brings to our community.
Thank you for recruiting such a wonderful member to your force and for the stars to align so that our community will forever be touched by Constable Bentley's generosity and genuine desire to make a difference.
J. Macfarlane
Boundary Central Secondary